Over the past few months, our member organizations have been migrating to a new, improved user interface. These changes are being implemented to make the valuable resources of the Roper Center easier to find and use. New features include:
Single search: Get results from the Roper Center dataset collection and question database at once with single search. Discover the riches of Roper's global dataset collection.
Enhanced search function: The keyword field now searches not only the text of the questions in the database, but the response categories as well. "Fuzzy" search capabilities eliminate the need to use wildcards (like * or %) to capture normal English variants of words. Know exactly what you are looking for? Just put the word or phrase in quotes to get exact results.
Organizations: Users can search survey sponsors and field organizations from a complete list of the over 1,200 organizations represented in the database. The option to use Boolean operators (AND or OR) on organizations and topics helps you create targeted search criteria.
Crosstabs: Where demographic data is available, this analytics function enables users in new Roper iPoll to create online crosstabs.  Look for iPoll studies notated with the charts plus symbol (1). Choose the crosstab tab (2) to see and select the available demographic variables for the study (3). Crosstab charts can be exported with question and citation data to an offline Excel file (4).
Better results: With more filtering options on the search results page, you can zero in on the results you need without multiple searches.
Persistent folders: Log into a personal account to save both questions and studies to your folder. Next time you log in, your finds will still be there. Your search history will also be available to you, so you can easily update searches or retrace your steps.
Citation exports: Copy citations in all standard formats or export to your preferred bibliographic management software.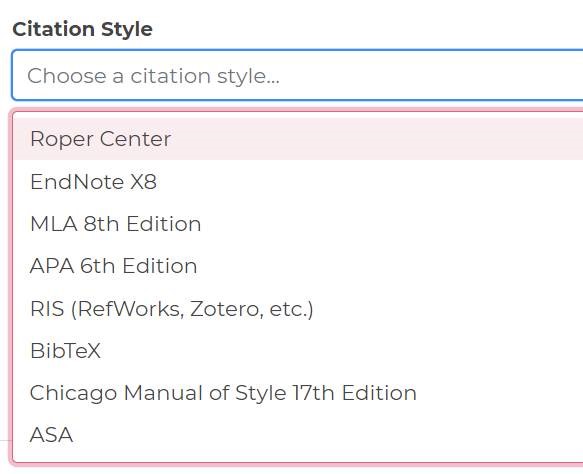 Shareable charts: Roper Center question charts are better than ever and can now be saved as an image with a click. Share your favorite polling questions on social media!
More study information: The study information tab provides more information than ever before on the surveys in the collection, and archival packages for newly submitted studies include extensive methodological information.
These improvements are just the beginning; sign up for our newsletter to keep up with Roper Center news. If you have any questions about the new Roper Center experience, please contact us at data-services@ropercenter.org.