Over the fifty years that have passed since the Stonewall riots, public opinion on LGBTQ issues has undergone a radical change. Polls measuring that change have increased in frequency and broadened in scope, shifting focus as new debates came to the forefront of public discussion, and providing a microcosm of the transformation in social awareness and understanding of LGBTQ people and their experiences.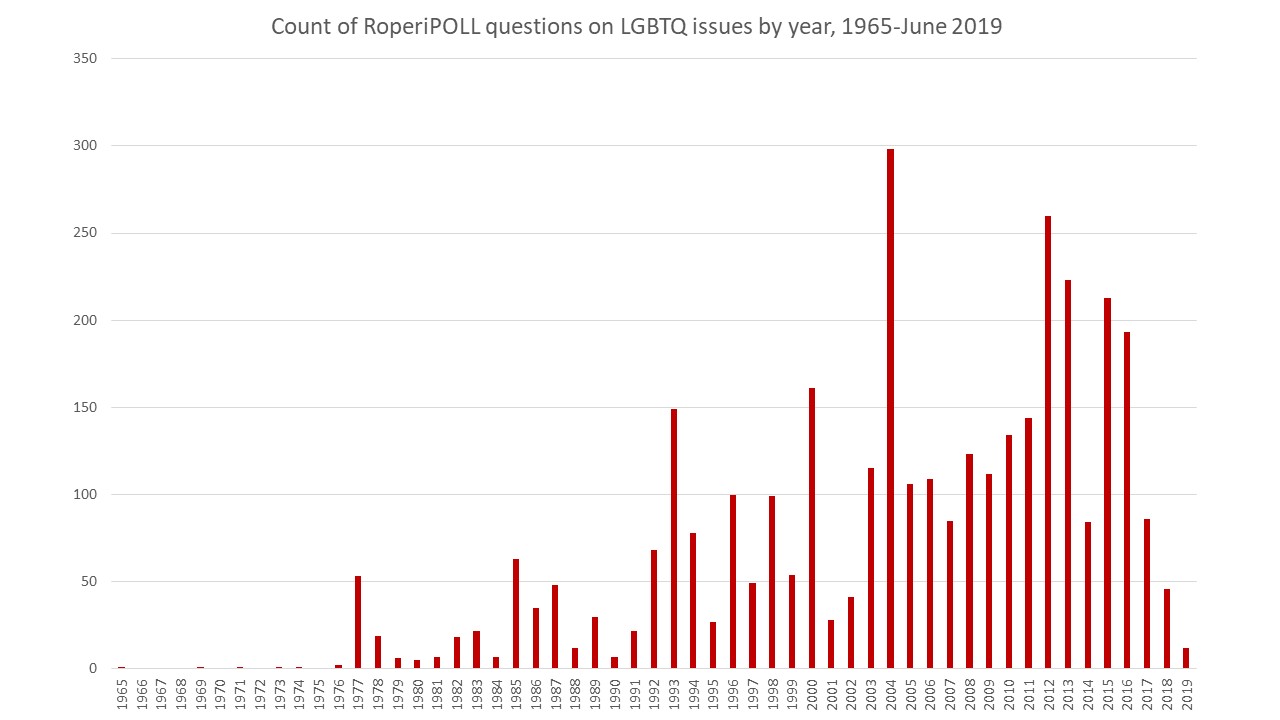 The 1960s
Three decades of U.S. public polling had passed before the first major poll even touched on the subject of sexual orientation. In 1965, Louis Harris and Associates asked if "homosexuals" were "more helpful or more harmful to American life, or don't they help or harm things much one way or the other." Seventy percent said more harmful.
The 1970s
In 1977, the Dade County, Florida board of commissioners added sexual orientation to an ordinance against discrimination in employment, housing and public accommodation. The backlash was immediate and fierce, led by Anita Bryant, a celebrity nationally known for several hit songs and her role as spokesperson for the Florida Citrus Commission. The controversy set off the first comprehensive set of polling questions on public attitudes towards homosexuality, with polls conducted by Time Magazine, Roper, Gallup, and Louis Harris. Although Gallup found the country evenly divided (43%/43%) on whether "homosexual relations between consenting adults should be legal", broad questions about anti-discrimination laws like the one in Florida found majority support.
The 1980s
The AIDS crisis brought more polling on LGBTQ issues, including many questions on discrimination, rights, and morality that were not directly related to the outbreak. Although 58% in a 1989 Gallup poll said the AIDS epidemic hadn't changed their opinions on homosexuality and 33% said it changed their opinions for the worse, in fact overall Americans appeared to have become more accepting of LGBTQ people over the course of the 1980s. In the same poll, Gallup found an 11 point gap between those who said homosexual relations between consenting adults should be legal (47%) and those who disagreed (36%), a change from the even split of a decade earlier.
The 1990s
Polling on LGBTQ issues in the 1990s focused on military service and the Don't Ask, Don't Tell policy. Although a solid 60% majority had told Yankelovich, Skelly & White that they would vote for a law "to protect the rights of homosexuals to be in the army" in a poll back in 1977, only 41% favored ending the ban on service in a 1993 Gallup poll. The Don't Ask, Don't Tell position was intended as a compromise, and indeed 60% of Americans supported it.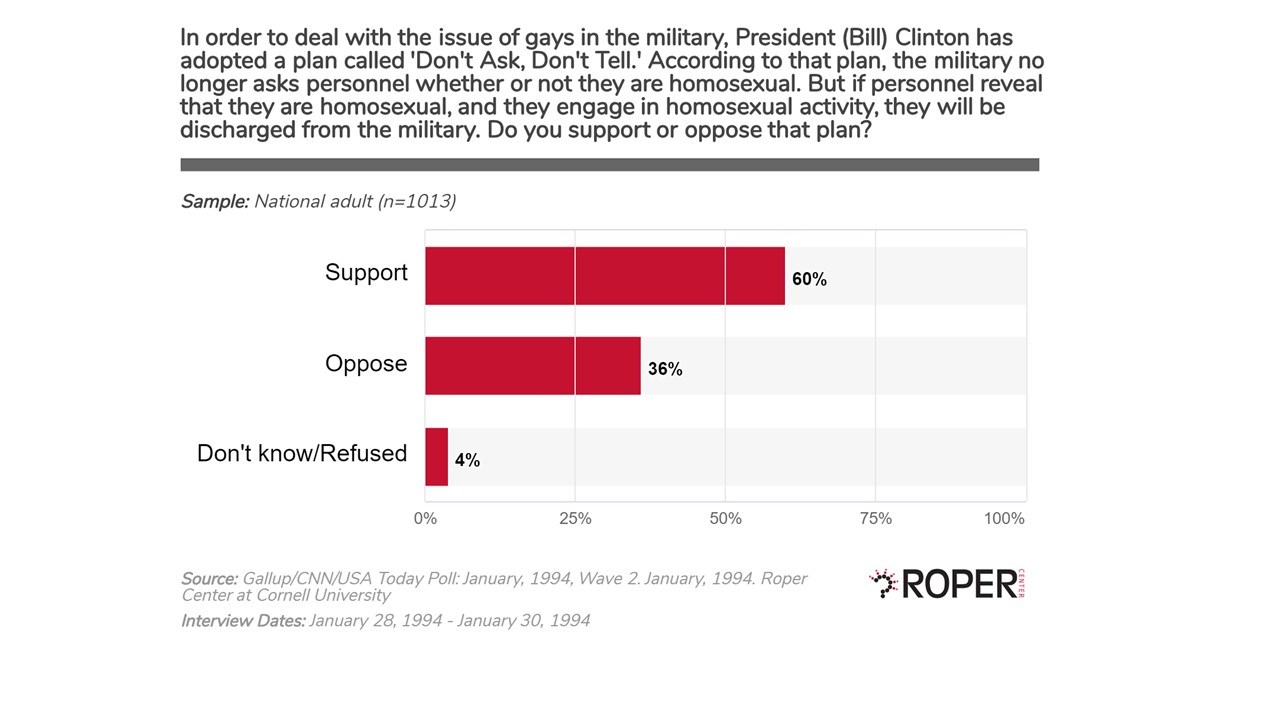 The 2000s
During the first decade of the new millennium, everything changed for the gay rights movement. With the November 18, 2003 Massachusetts Supreme Judicial Court ruling that legalized same-sex marriage in the state, marriage equality became a major national debate. A flurry of polling assessed the public response.  A Newsweek poll in 1994 had found 62% of U.S. adults saying that there should not be "legally-sanctioned gay marriages."  A month after the Massachusetts ruling, public opinion appeared unchanged, with 60% of registered voters in a Quinnipiac poll saying they opposed a law that would allow a same-sex couple to get married.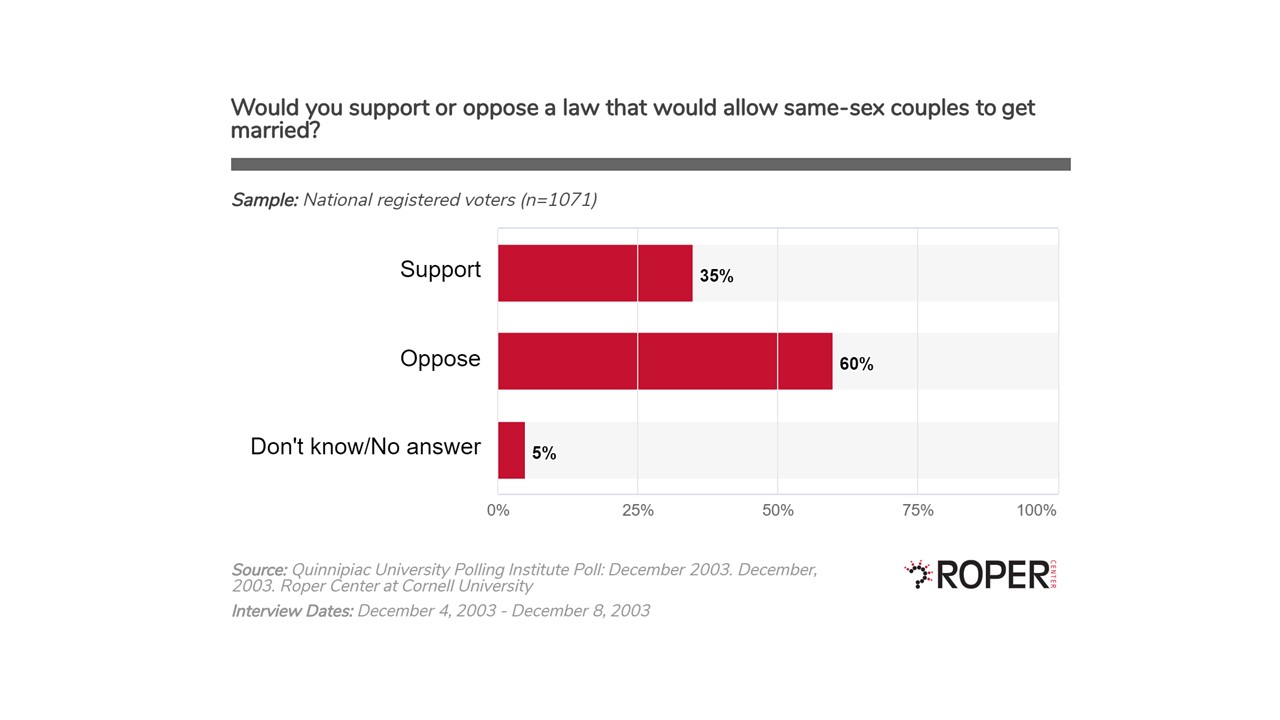 The 2010s
But the tidal change in public opinion on gay marriage, when it came, was rapid. A September-October 2011 Pew poll found 46% in favor of "allowing gays and lesbians to marry", with 44% opposed. Immediately following the 2015 Supreme Court ruling that legalized same sex marriage across the United States, 59% of Americans in a CNN/ORC poll said they supported the decision. A March 2019 update to Pew's question about allowing gays and lesbians to marry found 61% in favor.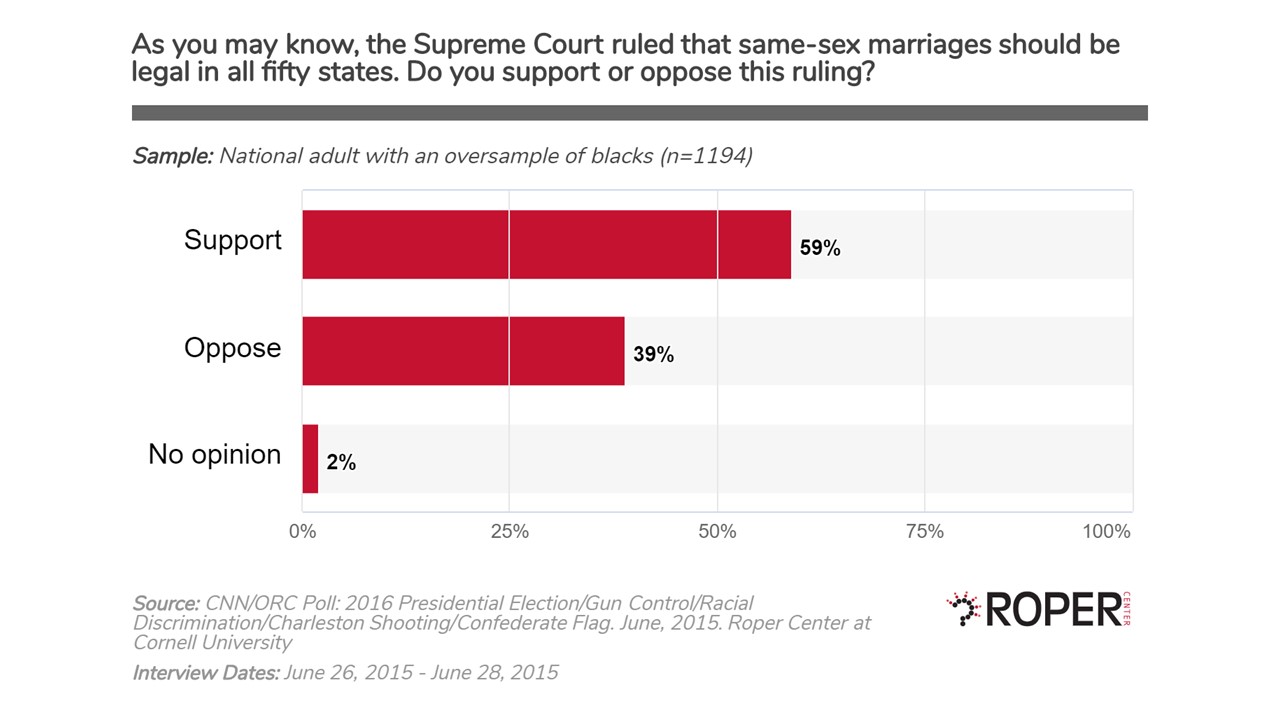 Although the number of questions about LGBTQ issues has declined since the most intense period of debate around marriage equality, in at least one respect, the scope of questions has broadened considerably in the 2010s. Gender identity is not commonly included in questions formerly limited to sexual orientation. The first questions about transgender people were asked in 2011, but since then, over 350 questions have included the term "transgender", including questions about personal identification, military service and perceptions of discrimination. It took 26 years to accumulate a similar number of questions on sexual orientation.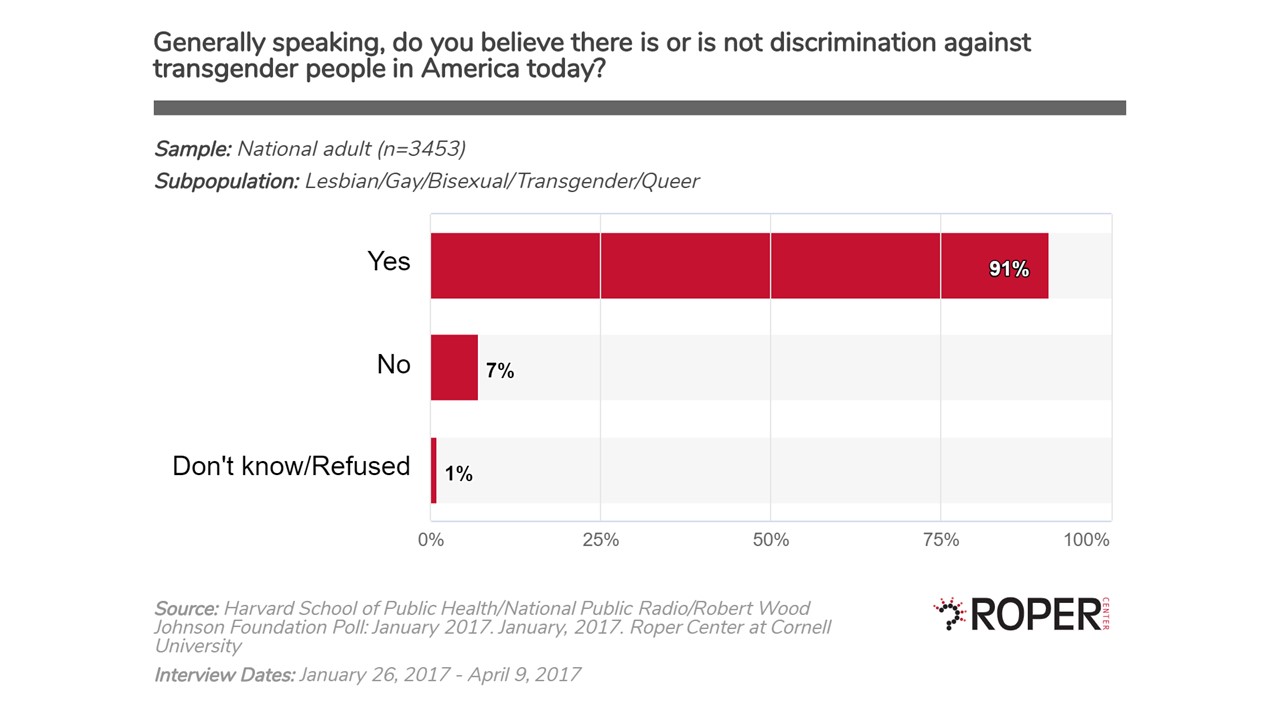 Explore all LGBTQ questions in iPOLL. 
Review retrospectives on public opinion on LGBTQ issues from Roper data provider organizations:
https://www.washingtonpost.com/local/social-issues/americans-views-flipped-on-gay-rights-how-did-minds-change-so-quickly/2019/06/07/ae256016-8720-11e9-98c1-e945ae5db8fb_story.html?utm_term=.53f2bdb83599
 https://www.pewresearch.org/fact-tank/2013/06/26/on-stonewall-anniversary-a-reminder-of-how-much-public-opinion-has-changed/
https://www.prri.org/research/fifty-years-after-stonewall-widespread-support-for-lgbt-issues-findings-from-american-values-atlas-2018/
Date Published: June 25, 2019