This fall the Roper Center will relocate to Cornell University in beautiful Ithaca, New York! We're so excited about our new home that we wanted to share everything about it with all our users. Of course, we do tend to see things through our own particular lens: polling. So we hereby present you with: A Guide to Cornell University, in Polls.
Famous Cornell Alumni and Faculty
Many are aware that astronomer Carl Sagan taught at Cornell for nearly thirty years. But did you know that fellow science educator Bill Nye was among his students? Polls show that the American public is enamored of space exploration. Christopher Reeve, popular actor who became paralyzed after a riding accident and served as a spokesperson for scientific research for the disabled, graduated in 1974. In a 1996 PSRA/Newsweek poll, 66% of the country thought he was a genuine hero. Not to brag, but Everett C. Ladd, one of the most influential among the Roper Center's distinguished executive directors, received his Ph.D. from Cornell. Barbara Bryant, the first woman to serve as Director of the Census Bureau, received her B.A. in Physics from Cornell in 1947. Census data is essential to public opinion polling - without it, survey researchers would be unable to weight their data to match the population. Learn more polling methodology in Polling Fundamentals. 
Frances Perkins,Labor Secretary
Labor Secretary Frances Perkins served on the faculty at Cornell after her time as the first female U.S. Cabinet member. Did you know iPOLL contains over 28,000 questions about labor and work? Nobel Laureate and father of the Green Revolution Norman Borlaug also taught at Cornell. iPOLL holds more than 1,000 questions about agriculture. Author E.B. White graduated in 1921. In a 2002 IKEA/IPSOS-Reid poll, 61% of Americans said they had read Charlotte's Web when they were kids. Charles Evans Hughes, 11th Chief Justice of the United States, was a professor at Cornell Law School, and Current Supreme Court Justice Ruth Bader Ginsburg is also an alum. The archives holds over 300 downloadable datasets with questions about the Supreme Court. Cornell has produced a number of polarizing political commentators, including conservative Ann Coulter ('84), liberal Keith Olbermann ('79) and libertarian Bill Maher ('78). We're pretty sure that, at some point, they all must have used election data from the archive. Football great Glenn "Pop" Warner, whose name lives on in youth football leagues across America, graduated in 1894. In a 2015 MSNBC/Telemundo/Marist poll, 42% of the country said football was their favorite sport to watch. Mario Garcia Menocal, class of 1888, was President of Cuba from 1913-1921. The first question in iPOLL about Cuba was asked in 1939. Kathy Frankovic, a Roper Center Mitofsky Award winner, is also a Cornell grad.
Innovation
Cornell's Africana Studies Program was the first in the country. Public opinion on race relations forms an important part of the Roper Center collection.
n 1952, the Automotive Crash Injury Research Center at Cornell pioneered crash-testing, demonstrating the value of safety innovations like padded dashboards and seatbelts. In a 1965 Gallup poll, 42% of drivers said their cars had seatbelts, and of these, only 37% used them all the time. By 2015, 76% of Americans in a Volvo/Mason-Dixon poll reported every occupant of their car wore a seat belt all the time. Several Cornell scientists worked on the Manhattan Project. Polls have tracked changing public opinion on nuclear weapons. Cornell scientists were also deeply involved in the Mars Rover projects. In a 2004 Gallup/CNN/USA Today poll, 70% of Americans thought the robotic explorers represented a major achievement.
Ithaca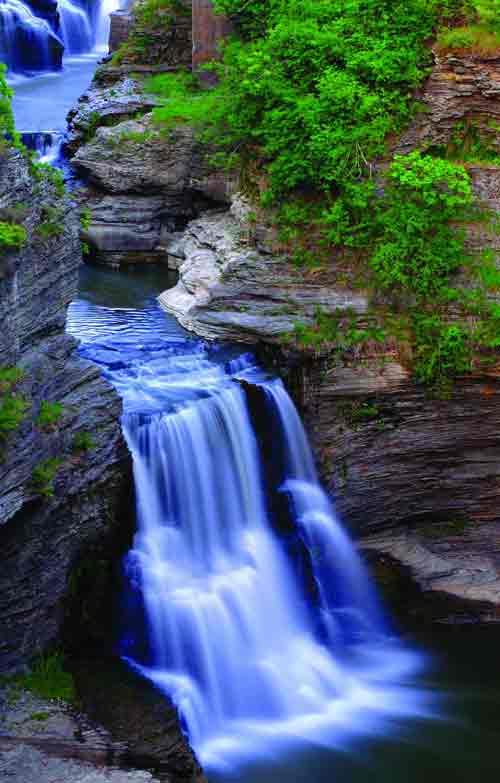 Ithaca is known for its magnificent natural beauty, including more than 100 waterfalls. Americans have long reported concerns about water pollution as one of their top environmental issues. The Finger Lakes are renowned for their wineries, but there are some excellent breweries as well. Good news, since 41% of those who drink alcohol usually drink beer, compared to 31% who drink wine, according to a 2014 Gallup poll. Did you know Ithaca once boasted a thriving silent film industry? Polling has been asking the public about movies since the 1930s. Ithaca voting record makes it the most liberal town in New York State. See how liberals and other groups have voted in presidential elections since 1976.   The Roper Center hopes 100% of our users are as thrilled as we are about the new Roper@Cornell!